History
History of New Covenant Church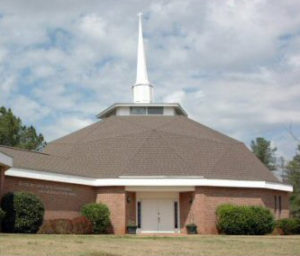 New Covenant Church began in 1975 as a group of friends worshiping our Lord in a living room. During this fellowship, Rev. Harold Bredesen, an internationally known apostle, felt "impressed" of God to ordain elders for this church. Dr. Paul Blackwell, Ronny Jennings, Jimmy McIntosh, and Jim Willbanks were ordained as elders and started meeting on Sundays as the New Covenant Christian Fellowship in an auditorium in Dadeville's town square. By 1978, the group had grown to need a pastor and Rev. Jeff Dunbar served in the position for the next seven years, during which time meetings were held in he Dadeville Recreation Center. Construction of the present sanctuary complex began in 1978 and was completed in August 1985. The church was renamed New Covenant Church, and Rev. Ronny Jennings was installed as pastor. Easter of 2021 Pastor Ronny "passed the baton" to current pastor, Guy Hannum.
The Building of the Ark
The Ark was built with the idea to accommodate congregational growth with a desire to emphasize children and youth ministry. This family life center was finished in 2006 and includes kids church, teen area, ten classrooms, a complete kitchen and a large multipurpose room. The multipurpose room was eventually tranformed into our main sanctuary where we have all of our services today.
New Covenant Church is fully chartered by the State of Alabama. Church governance is with constitution and by-laws, administered by the Board of Elders and the Board of Deacons, New Covenant Church is Full Gospel and affiliated with the International Pentecostal Holiness Church.